| | |
| --- | --- |
| Født | 16. august 2010, Finland |
| Farve | Trefarvet |
| Hale | Lang |
| Højde | 35 cm |
| HD Status | A |
| Meritter | CK |

Yacatis Dan-Åke Nordärt er en hvalp som er importeret fra Finland. Han er hentet fra Kennel Yacatis som ligger ca en times kørsel fra Helsinki.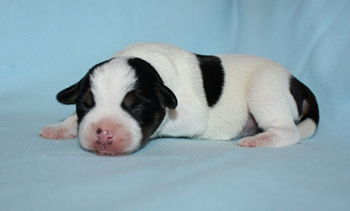 Dette billede er Dan-Åke kun 3 dage gammel på. Og jeg var solgt. Den brede mule, kraftige skalle og man kan se kraftige stammer/poter. Han er fin.


Som opdrætter må man forvente at ens planer nogle gange går i vasken og så er det godt have en back-up plan. Nogle gange viser det sig, at back-up planen viser sig at være det bedste, der kunne ske.
Vi havde gennem et stykke tid haft kig på en han Aridgeocrat´s Ernest Hemmingway (Herne), som boede helt ovre i Finland. Han havde alt det, vi gerne ville have i en gårdhund både udstråling og masser af type og han var herlig. Han var efter gamle danske linier, som ikke var i overflod i Danmark, så det ville være lidt ligesom at trække nyt "gammelt" blod til Danmark at anvende ham. Vi ville gerne bruge ham til vores Jessie, så vi kunne beholde en han efter ham til evt. avl osv.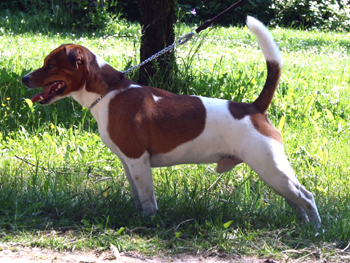 Dan-Åke's far, Aridgeocrat's Ernest Hemmingway. I daglig tale Herne.



Mia (ejeren) afslog naturligvis mit tilbud om at købe ham, så jeg lavede en parringsaftale med hende om at bruge hans far Leonberget,z Emercus To Yacatis (Eetu) eller ham selv. Man ved jo godt at hvis du kan lide en hund, så er det en god idé at bruge hans far... Vi kom til Finland og her stod de to smukke hanhunde side om side. Det valg ville jeg godt have været foruden. De var begge to sindssygt flotte og fine og valget var svært.
Jeg endte med at vælge Herne og vi foretog en parring og en parring igen dagen efter.

Vel hjemme og ventetiden var lang. For her var jo en drømmekombination til min tæve. Han havde alt.
Fødslen kom og katastrofe... hu hej til dyrlægevagten som tog Jessie ind til Kejsersnit øv! Vi måtte tage hjem og vente på at dyrlægen ringede. Der gik en time, måske lidt mere, så ringede de og sagde at vi kunne hente hende og fem små hvalpe, alle havde overlevet.
Pu-ha var vi lettede over at hun og de små havde overlevet...
Vi kom frem og hentede de små og Jessie, som stadigvæk var meget træt oven på keisersnittet. Der var fem små hvalpe i alle regnbuens farver hos hende. Alle tæver. Det var ikke lige planen. Så der var ingen han til os efter Herne.
Alle hvalpene kom til rigtig gode hjem. Den ene kom endda tilbage til Finland til samme ejer som havde faderen. En anden kom til Holland, en til Tyskland og to blev på Sjælland. Men ingen han til mig. Jessie skal ikke have flere hvalpe, da hun jo fik kejsersnit, så jeg kunne ikke gentage parringen eller prøve med hans far. Men jeg var stædig og ville partout have en han efter Herne, så jeg tog konsekvensen af det og lagde billet ind på en hvalp efter ham og en tæve, der var planlagt at skulle parres med ham hjemme i Finland.
Tæven yacatis Nordic Nappie er også en af mine favoritter og efter en anden gammel dansk linie, som jeg selv arbejder med, nemlig Thorhildur, så denne kombination var for mig helt enestående og jeg glædede mig meget til en hvalp derfra.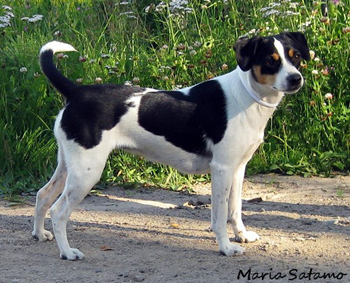 Dan-Åke's mor. man kan se han har arvet hendes smukke farver.



Tiden gik og endelig fik tæven hvalpe. Tre hanner og tre tæver. Jubii, der var en han til mig. Jeg fik lov til at vælge først og jeg havde med det samme kig på den trefarvede, da han havde et dejligt veludfyldt næseparti og skalleparti og var dejlig kompakt allerede fra starten. Og kraftige stammer, som jeg godt kan bruge. Han var perfekt.
Jeg drog til Finland for at hente ham og sikken en tur.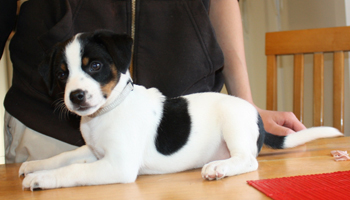 Billede fra Dan-Åke's opdrætter Kennel Yacatis.



Nu da jeg var i Finland alligevel, så kunne vi jo lige så godt kombinere det med at tage ud og se en udstilling. Så vi tog på udstilling og der var minsandten tilmeldt faderen, to hunde fra mit opdræt samt en afkom efter min gamle han, Mac. Det var en oplevelse. Faderen blev BIR Sådan! Jeg fløj hjem med hvalpe. Han kom til at hedde Yacatis Dan-Åke Nordärt. Alle hvalpene i kuldet fik svenske navne. Han heder Nordärt efter sin far, da "Herne" betyder ært på finsk. I dag er Dan-Åke 2 år og har udviklet sig med en flot og kompakt krop som sin far og farfar og smukke farver som sin mor. Han klarer sig fint på udstillingerne og han har fået A på hofterne og han er nu blevet far til sit første kuld her hos os. Skæbnen ville at der kom en lille tævehvalp, som lignte ham på en prik. Se Karla under "vores hunde".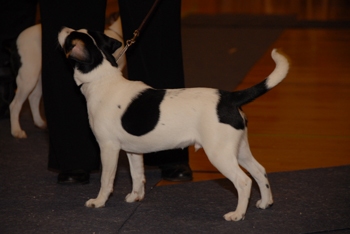 Dan-Åke's første udstilling i babyklassen. Han blev bedste baby.



Så Dan-Åke er noget helt specielt både for sine linier og historien bag.
Han bor sammen med sin ven Nydningen´s Holger Danske på foder hos en dejlig familie (Lise og Gert i Hedehusene). Dan-Åke og Holger har utrolig megen glæde af hinanden i hverdagen.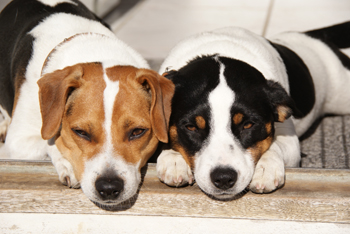 Dan-Åke og hans ven Holger.